August's my birthday month and so along that comes with that month is good food. Yeah~
1) Fisherman's Market @ Clark Quay
There's a lot of hype over this restaurant. And here's what I feel:
Lots of variety, wide spread of different cuisines. There's seafood, teppanyaki, international cuisine, local cuisine, japanese cuisine, appetizer/cold food section, desserts & fruits.

Very classy decor

Customer service is a thumbs up
The main attraction should of course be the seafood (it's called fisherman's market what haha), but I wasn't very impressed with the seafood at all (maybe my expectations were a little high cos of all the hype). They have everything; oysters, squid, prawns, mussels. But I felt that taste-wise, it wasn't so spectacular and therefore paying almost $50 for the buffet was a sort of overpriced. The oysters were a disappointment for me cos I was kinda planning of sweeping like 10 to 15 hahaha.
But the teppanyaki section is really really good! Especially the chicken, that is a must try if you go. I think it's the best teppanyaki chicken I've had so far.
The international and local cuisine is pretty okay. The sashimi from the Japanese cuisine was quite fresh. The appetizers/cold food section is not bad.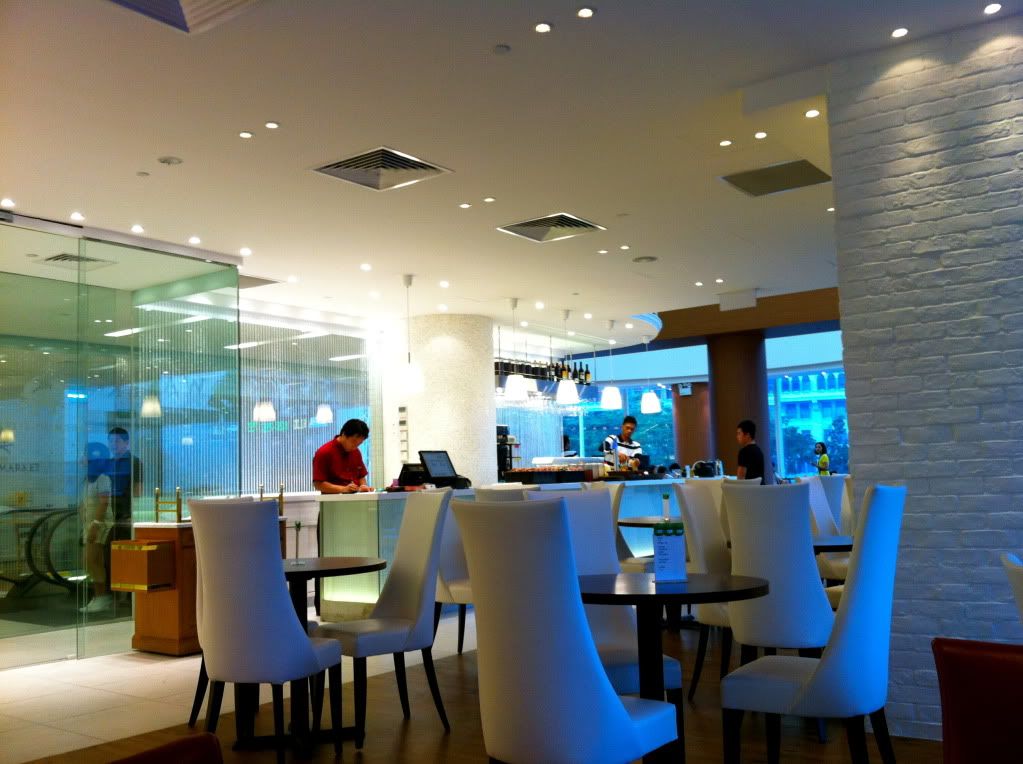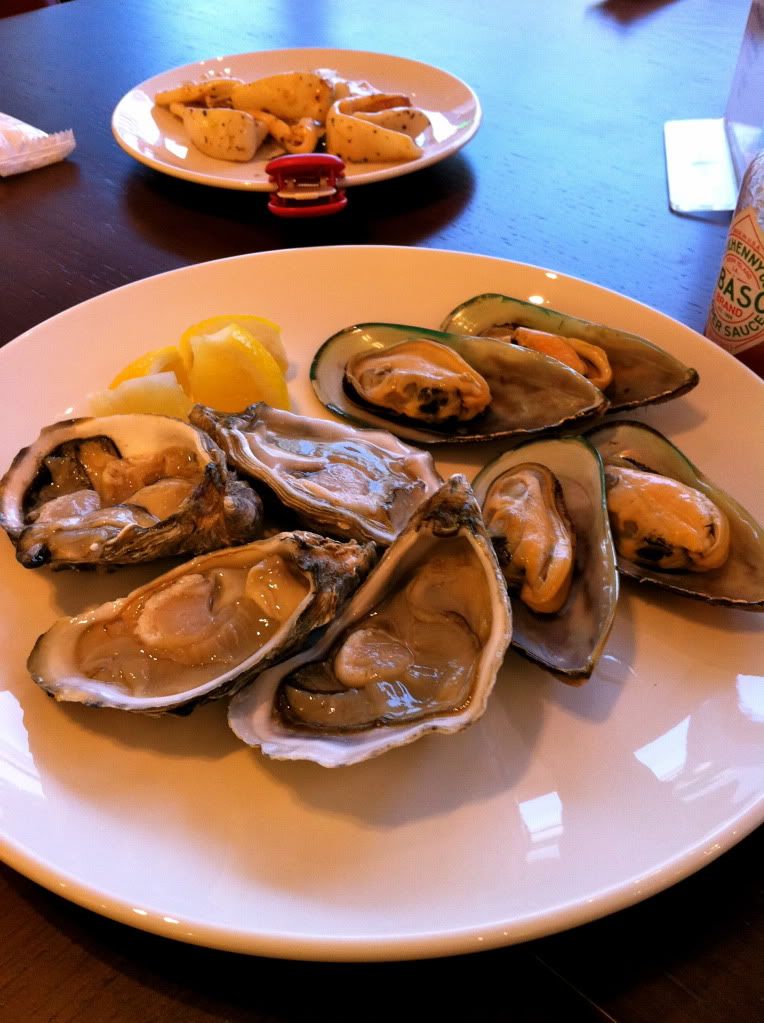 From the seafood section (you can see the teppanyaki squid at the back)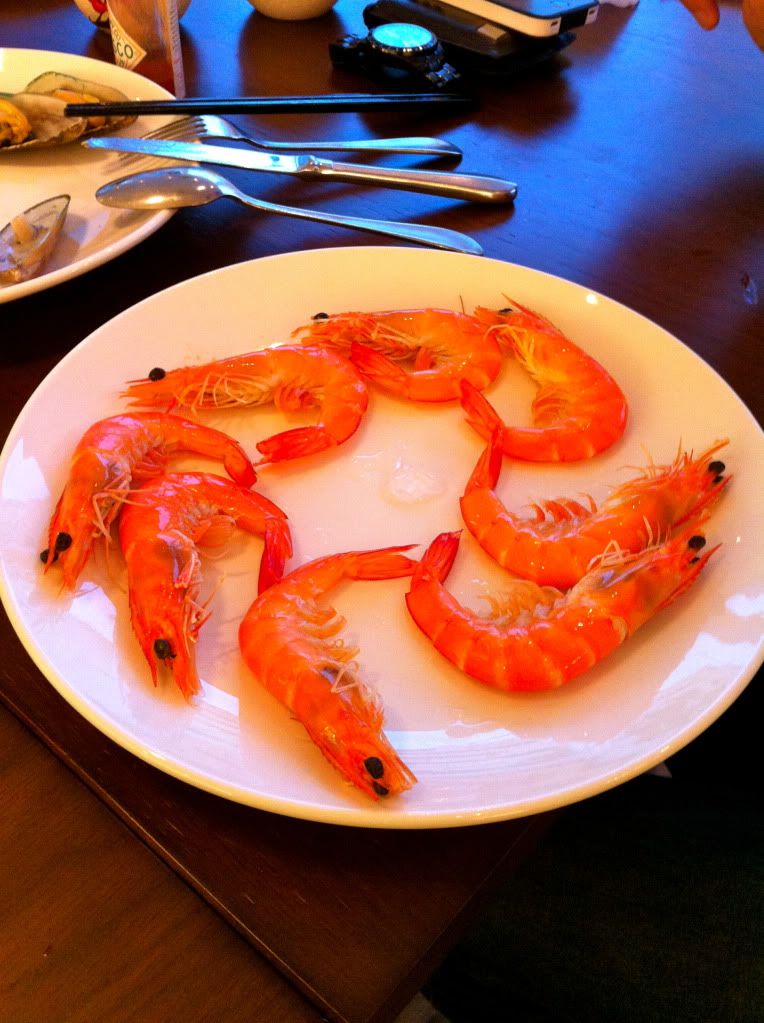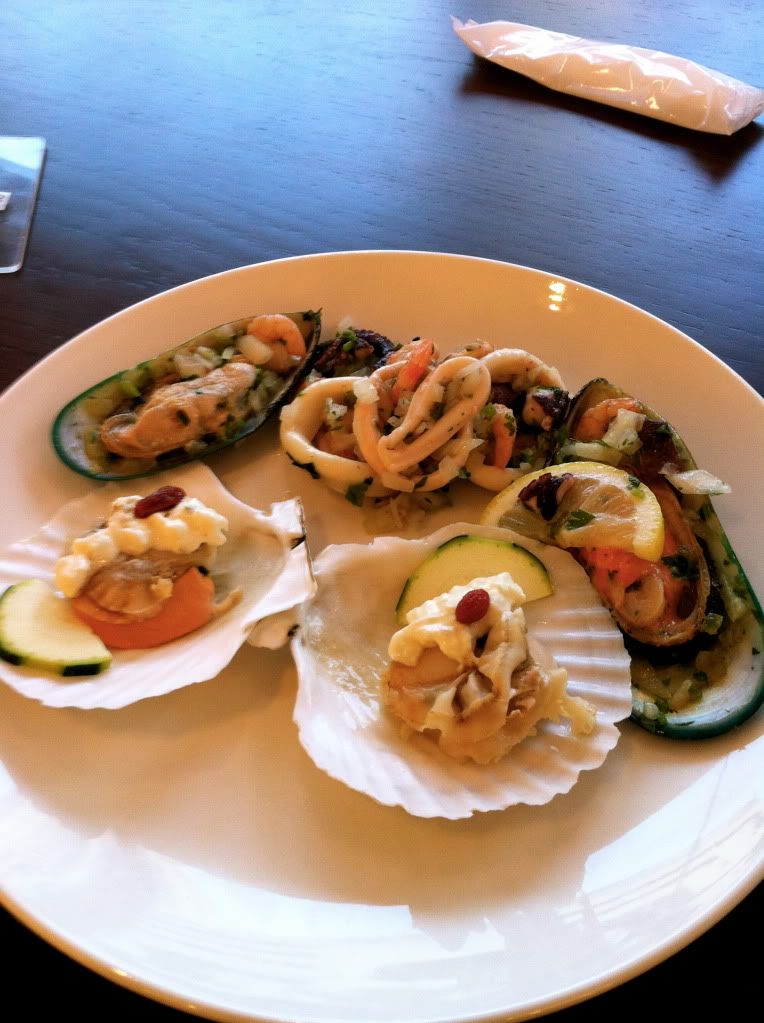 From the cold food section.
Pardon the lousy photos! I didn't take much either, subsequent dishes that I took after these I didn't take cos I was kinda busy eating and I didn't want to use my phone after peeling the shells of the prawns.
For the desserts & fruits section, other than the usual cakes and fruits, there's a chocolate fondue fountain so chocolate lovers (applies to most people actually, except me), you would like it.
Customer-service was a thumbs up because the staff were really friendly, helpful and very polite. One of them accidentally cleared a plate of oysters that we were not done with and so she apologized. After awhile when she came back to clear our plates, she apologized again. Small gesture yes, but it's not common nowadays to see any service staff who seems genuinely apologetic when they apologize. Most just apologize for the sake of apologizing or because they have to because they don't want to receive any complaints.
2) Chikuwa-Tei
(Finally went back again!)
I have nothing but raves for this japanese restaurant la haha. This time, I took proper photos showing how thick their sashimi slices are.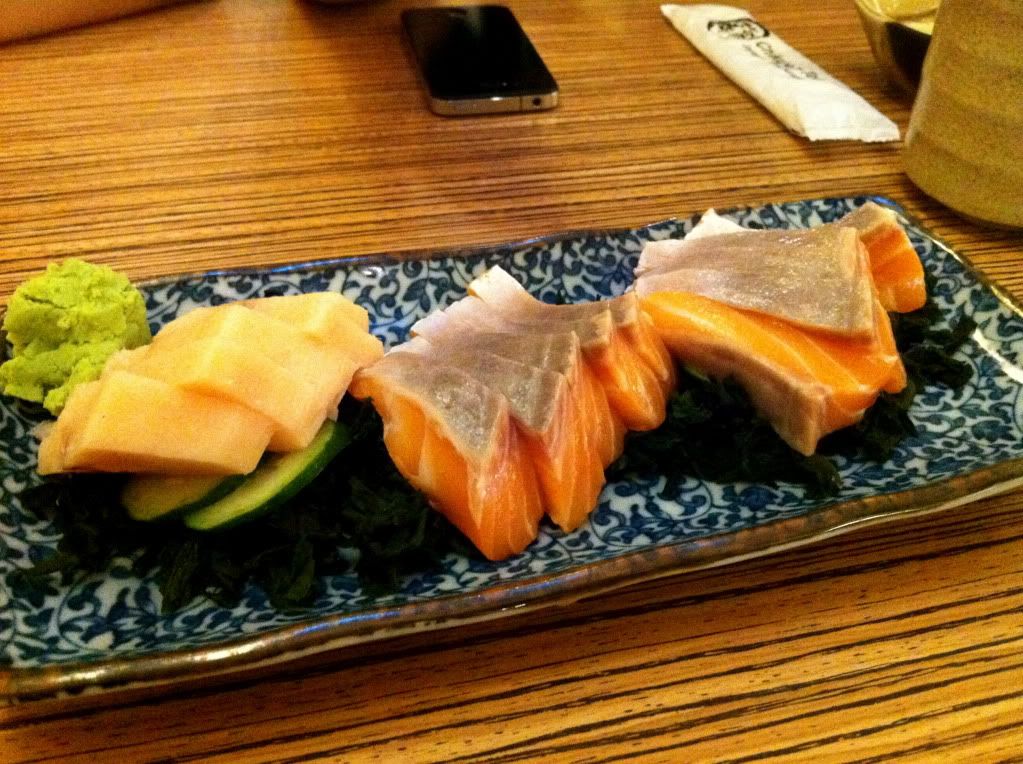 CHECK OUT THE THICKNESS!! That is how thick is it geez.
Sorry about the focus cos I was using my iPhone's camera.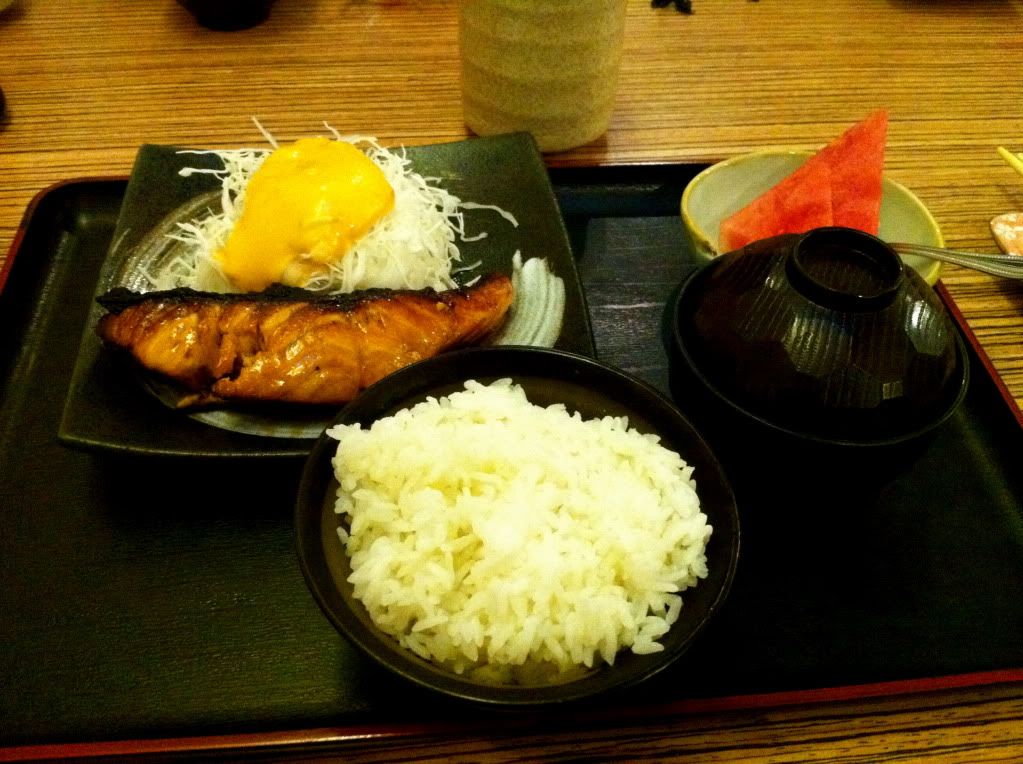 I ordered the salmon set. It was pretty good!
And wanxuan ordered the sashimi set. $25 but I think it's super super super worth it. You get all the different types of sashimi I think. There's swordfish!! And that's good enough for me already haha. Think I am gonna have this the next time I am there.
Boyf ordered the saba fish set while Jere ordered the eel set. All were pretty good.
If their green tea tasted like Itacho's, wah perfection~
*******
Spent my birthday with the boyf, he whipped up a simple Italian pasta dish. I think it's really good to have a boyf who knows how to cook heh. Then, my family surprised me with a birthday cake when I reached home.
If my dad was the one who did the buying I think all 4 would be chocolate haha. Mum did the buying and so there's a non-chocolate one. Stephen also bought a similar cake for me lol.
And then my youngest brother did this:
You know that gel thing you squeeze out onto a straw and when you blow air into it become this 'balloon'? I can't remember what exactly it's called. Yeah he used that and made this. His whole room just smelt like that gel thing after that.
*******
Met up with Ting Ke and Jonathan for IKEA dinner yesterday.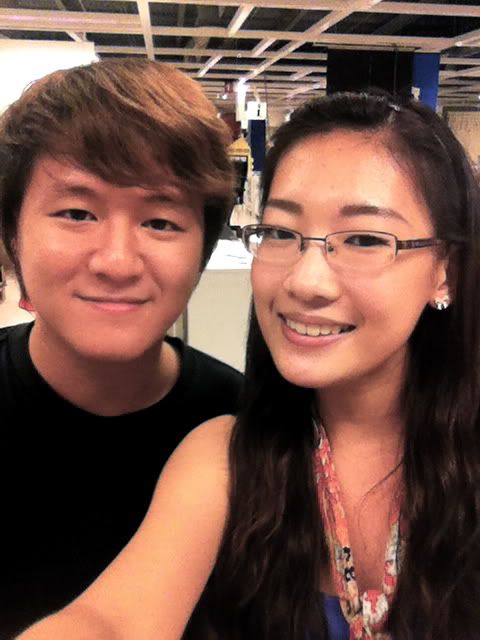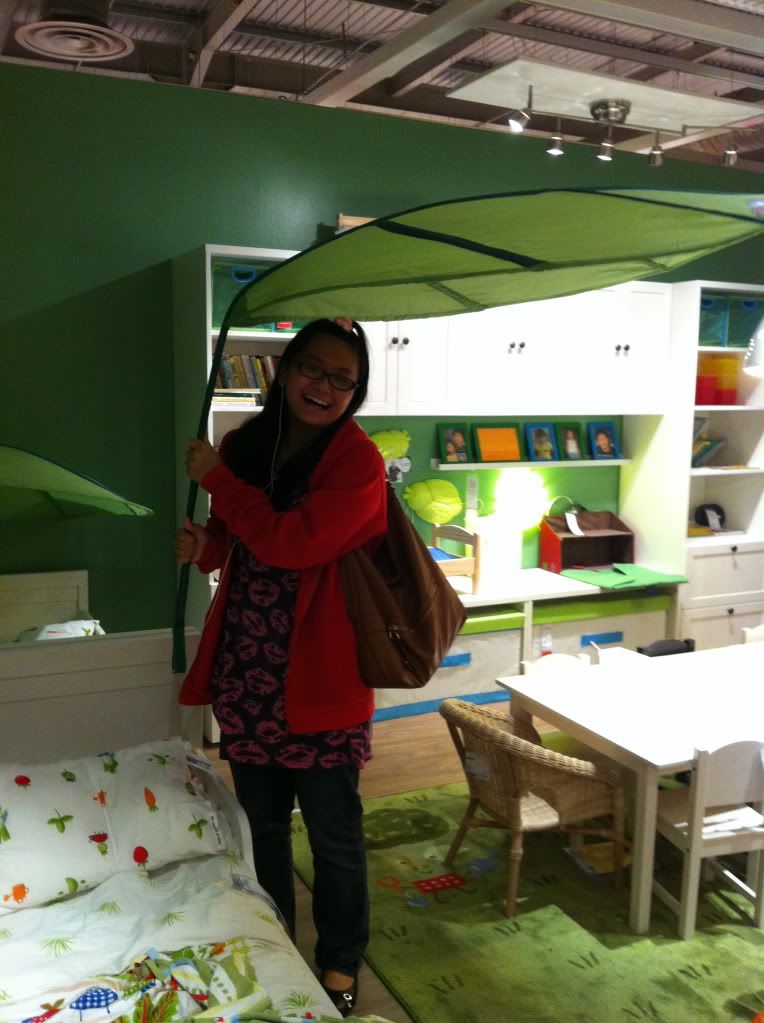 Hahahaha she was wowed by how huge the 'leaf' was.
Tingke was showing us this app to create GIFs, cool man.
Okay this kinda looks silly. Lol.
Anyway, outfit-of-the-day (OTD):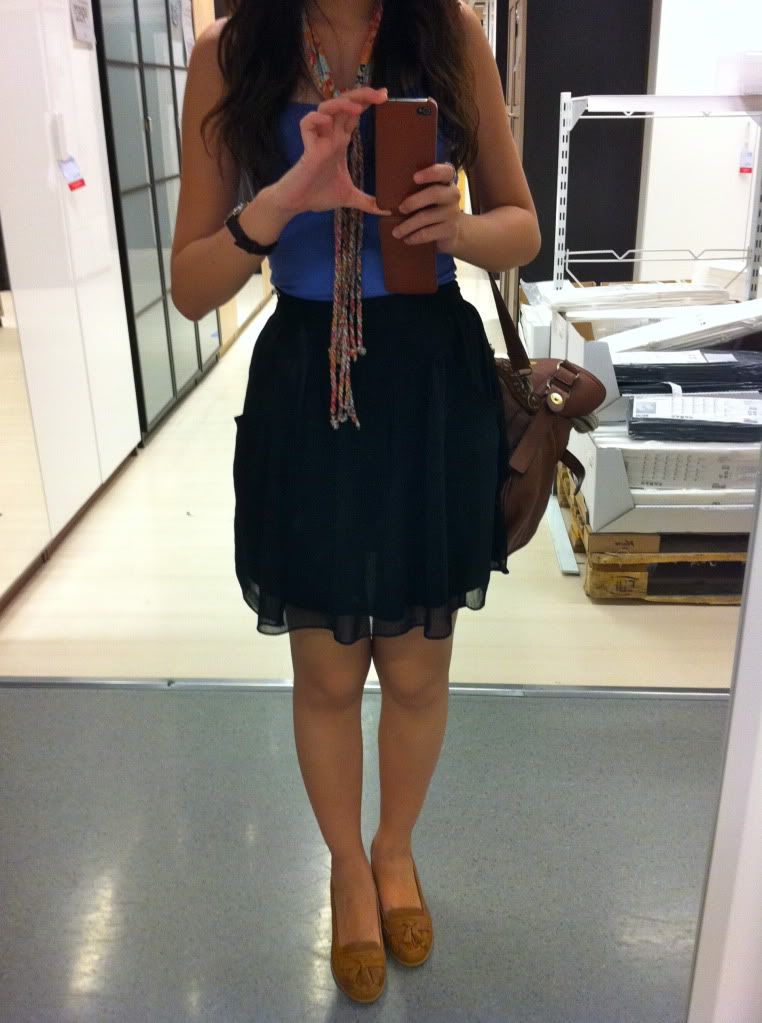 I am kinda into skirts recently. I remember I had a tee-shirt phase, then a denim phase, and then a crazy-over-bags phase followed by rings. Now, I think it's the skirts phase lol.
*******
28 more days to end of internship!!! :D
Shall end this post with the cliche "wake me up when september ends" haha cos that's when my internship ends!
Have a spectacular september, dear readers! :)