Right, so this post is about 2 to 3 months late. But ah well, better late than never.
I didn't take much photos this CNY because if I didn't remember wrongly, I pretty much spent it studying and rushing deadlines.
With my youngest brother
With my other younger brother.
With my cousin, Wan Lin
All the cousins except one.
I didn't take much with my mum's side cos I really spent the entire day studying. :(
***
You know, I never really celebrated Christmas with my friends before last year. Seriously. When I was younger, my mum's side would celebrate Christmas together by organising what is reminiscent of 'Secret Santa'. The adults would draw lots to decide who would give which child a present that year. And on that day, they will place their wrapped presents under the Christmas tree immediately after they arrive and we, the children, will be eager to find out which aunt or uncle will be our 'Santa'. There will be turkey, honey baked ham, pasta, champagne or wine and more food! Those are perhaps the fondest memories I have of Christmas. But as the children got older, these yearly Christmas celebrations became a thing of the past. And since neither my family nor I am Christian, we don't celebrate it at all. But this year I did, albeit a little different. Just check out what we had for dinner.
SASHMIIIIIIIII!!!!!!! *sprinkles confetti* I mean look at the amount of it! Swordfish and salmon too!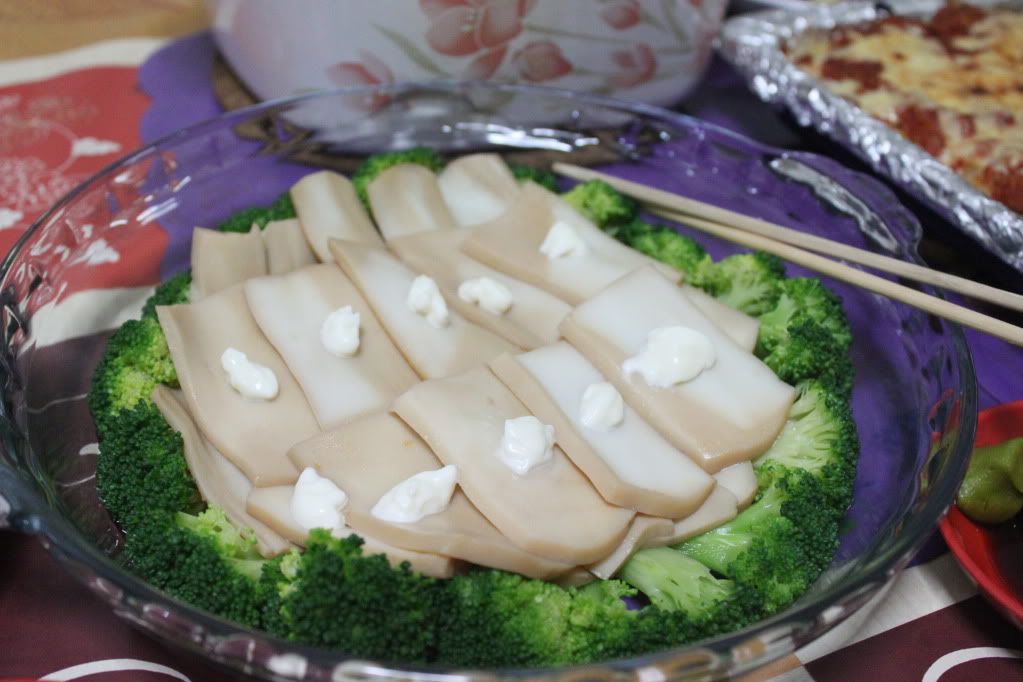 Abalone with broccoli
Onions wrapped with bacon. Oh this was good. Surprisingly good. I don't usually eat onions you see.
Lasagne.
All the food were whipped up my Wanxuan and her mum (except the sashimi of course). And we had the lovely company of Brown Brother's moscato too! Mmm.