I was invited to a bloggers brunch session last Saturday at Food Republic @ 112 Katong and boy, it was hardly brunch. It was more of breakfast-lunch-dinner combined; it was a 16-course meal! I arrived with an empty stomach and left all filled up and satisfied.
This is going to be a picture heavy post, so here goes:
1. Yong Soon You Tiao
Till now, I am still thinking about the you tiao. I can't remember the last time I had you tiao this good! Crispy on the outside and fluffy on the inside. Plus, it was really fragrant too! So sooo sooooo good.
Yong Soon You Tiao has been around for about 20 years and they don't just serve traditional dough fritters, in case you were wondering. Crowd favourites include the Butterfly fritters and the Deep-fried salty fritters. They also have new flavours such as coffee, red, green bean and pandan; I wonder how they taste like. And you know what's the best thing? Their dough fritters are certified halal! My muslim friends, you've got to try this!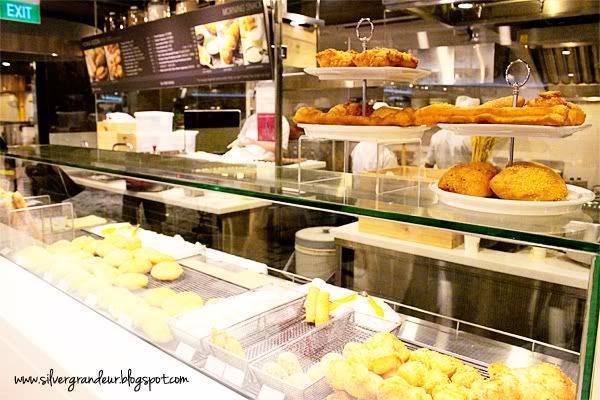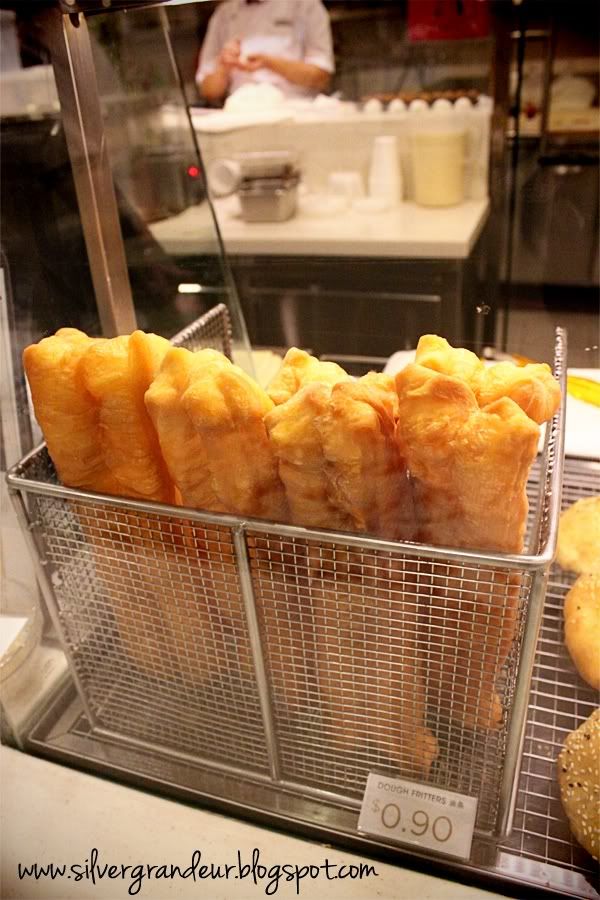 Price: $0.90 for one (as pictured above)
*
2. Thye Hong Fried Prawn Noodle (Hokkien Mee)
I love a freshly cooked, mouth-watering plate of Hokkien Mee which is hardly a surprise since I am a huge fan of seafood. I actually have a list of "Good Hokkien Mee" places. I've never tried Thye Hong's and now that I have, I find it pretty good! The soup stock is the gist of the dish and for this, it's not too salty nor too bland. It's flavourful enough and with the zesty flavour of the lime, it's the perfect combination.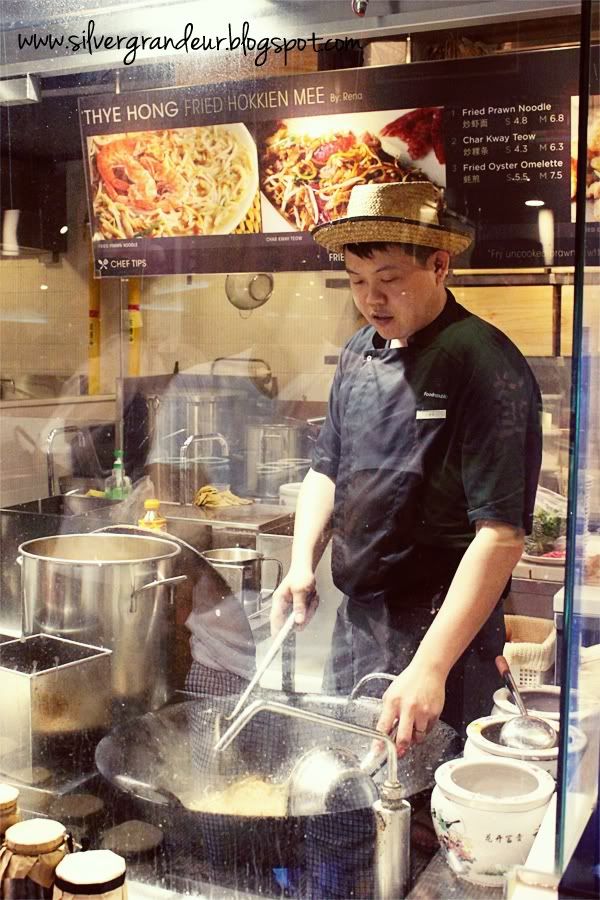 Did you know that Thye Hong has over 40 years of history? Other crowd favourites include the Char Kway Teow (this dish was hand-picked by the Singapore Tourism Board to showcase it as one of our nation's most celebrated local specialities at the Culinary Institute of America in California) and the Fried Oyster Omelette.
Price: $6.80
*
3. Fu Lin Toufu Yuen (Yong Tau Fu)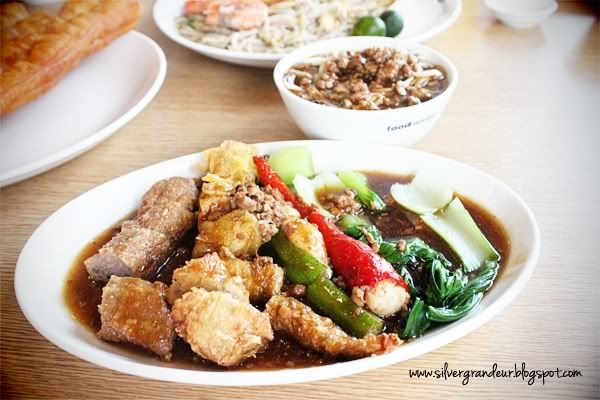 If you were wondering, "Yong Tau Fu? That doesn't really look like Yong Tau Fu." Well, you are not entirely wrong. Fu Lin Tofu Yuen does not serve your conventional Yong Tau Fu. Customers will still choose the ingredients they want but they will be cooked crispy instead and served with their "specialty minced chicken mushroom gravy with noodles".
If this stall's near my workplace, I think I might just have it everyday. It still feels healthy because the ingredients are not deep-fried and the noodles are really good! The texture of the noodles feels silky with the gravy and the taste is just heavenly, like a burst of flavours in your mouth. If only all Yong Tau Fu stalls had this, I would pick this over rice any time.
Price: $6.80 for a 7 pc set with noodles
*
4. Li Xin Teochew Fishball Noodle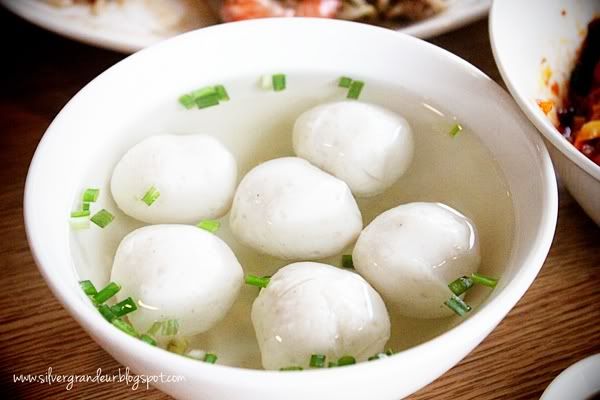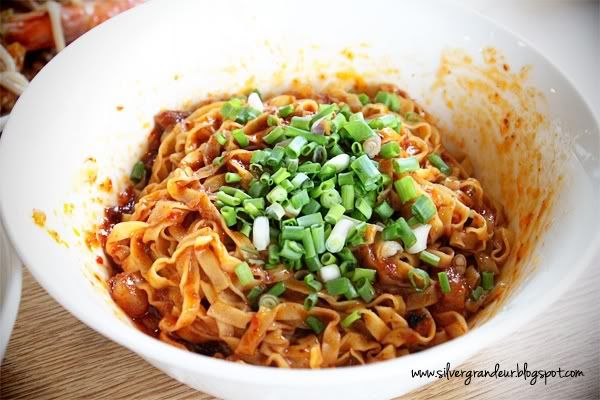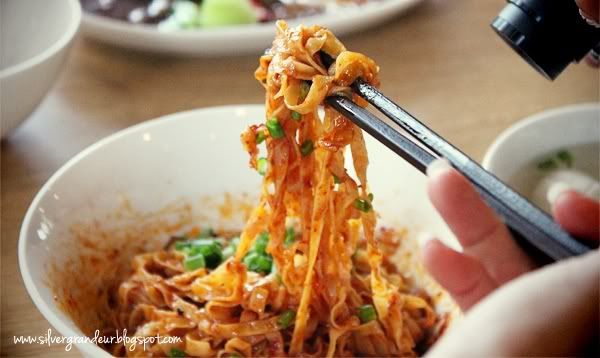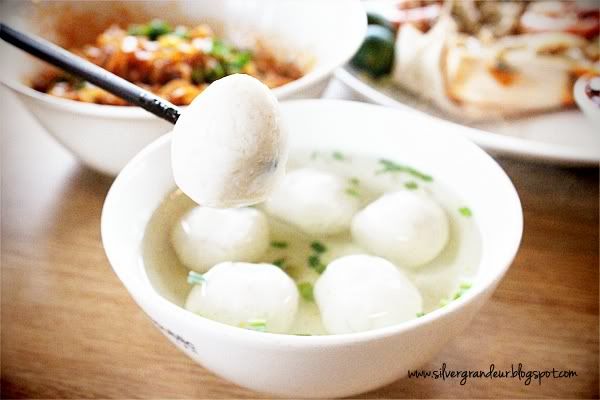 Fishball noodles will always have a special place in my heart because it's such a simple yet homely dish. (if you get what I mean). It's a ubiquitous dish and whenever I am at a lost at what I should have, I will simply go for a bowl of fishball noodle (dry with chilli).
And damn, this was really good - the fishballs. You know how we all love a *toing toing* or bouncy fishball. This fishball was bouncy alright, but the strange thing is that it's actually tender! One bite and you know it's a quality, handmade fishball cos of the texture and taste. Li Xin's fishballs are made only with yellowtail and kept chilled in cold water, but never frozen. That explains the soft and bouncy texture. Good stuff, really good stuff. The noodles were spicy, in a good way. Remember I mentioned before that I get a kick out of spicy dishes? This one, most definitely. The chilli (made by them) was sweet and spicy at the same time, much to my (and my tastebuds') delight.
Price: $4.50
*
5. Huat Huat BBQ Chicken Wings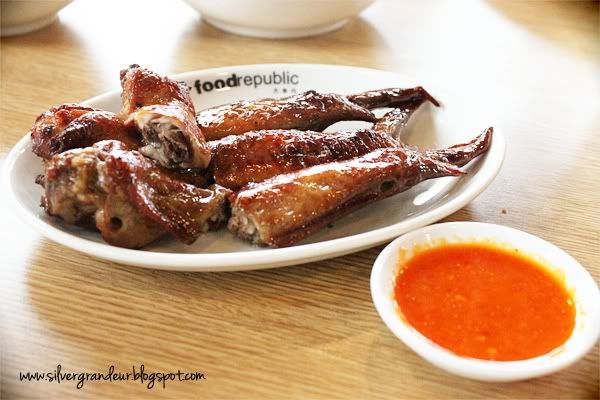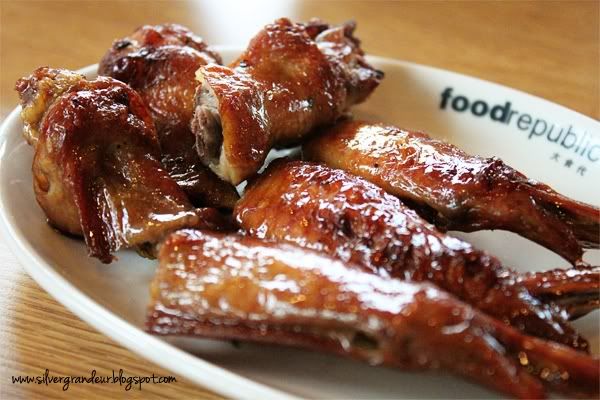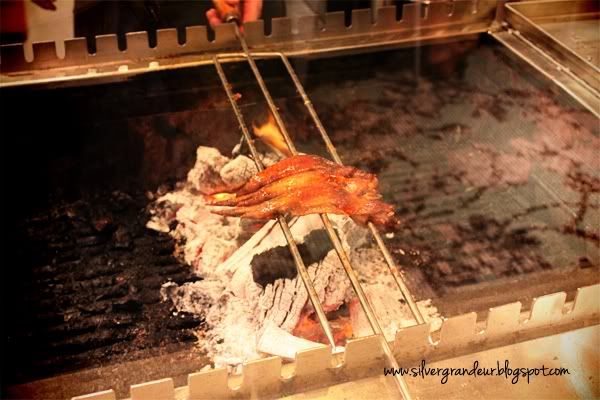 Ah chicken wings, I love them so much I don't even know where to begin. Just like how I have a "Good Hokkien Mee" list, I have an "Awesome Chicken Wings" list too. The moment this plate of chicken wings was placed on the table, the aroma just hits you in the face. The chicken was succulent, juicy and finger-licking-good. I could totally polish off more than one plate. Simply delectable.
Price: $1.30 (min. 3 pc)
*
6. Cho Kee Wanton Noodle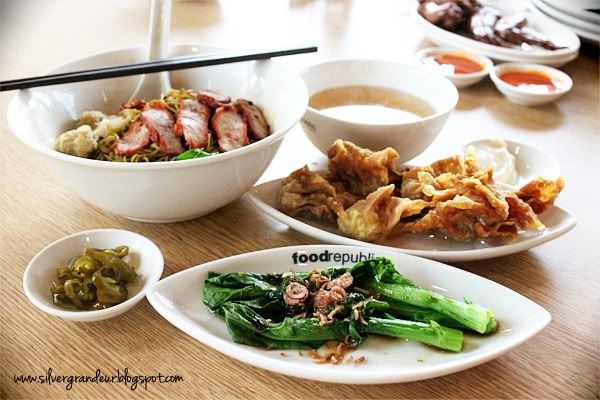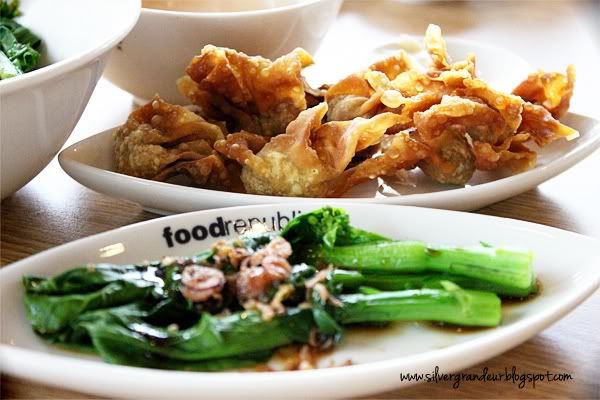 Wanton noodle is another homely heartland favourite. This caught my attention when it was placed on the table because the noodles were not the usual yellow. Instead, they had a greenish tinge to it. That's because those noodles are actually 'spinach noodles'. (see photo below)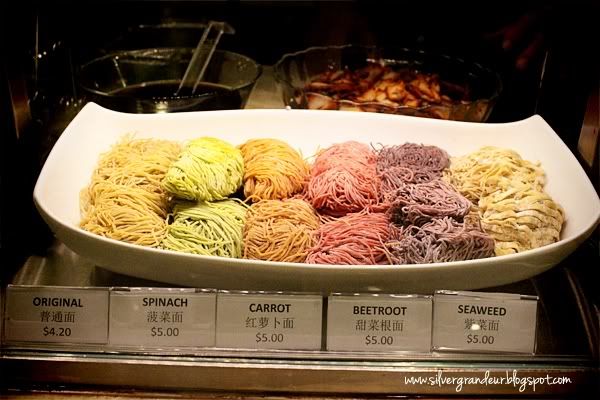 Here are the 5 types of noodles they have. The stall uncle told us that 'spinach' is popular with the locals while 'beetroot' is popular with the foreigners (specifically Westerners).
The noodles didn't really taste like spinach however, in case you were wondering. They still tasted like noodles. But I found them a tad bit too spicy for my liking. The wantons, both fried and non-fried, were good however.
Price: $7
*
7. Nasi Kuning Set (Dapur Padang)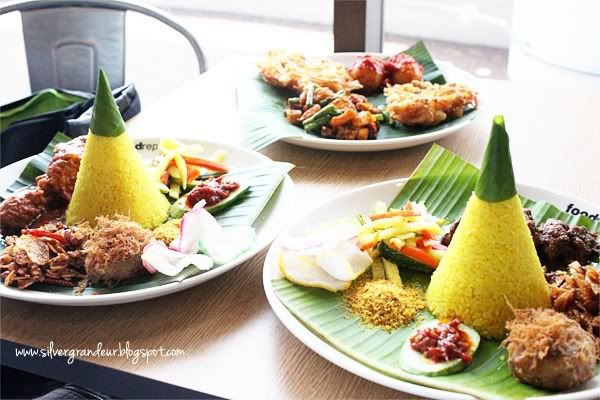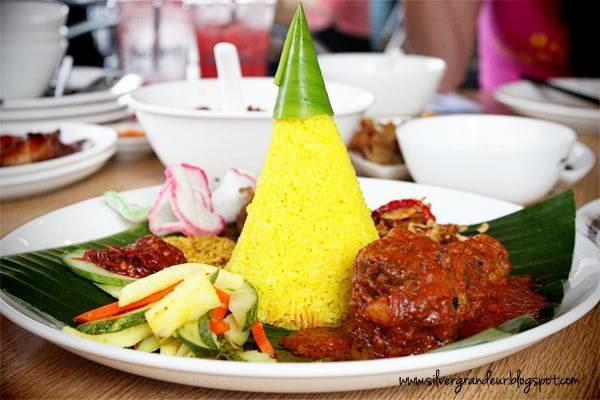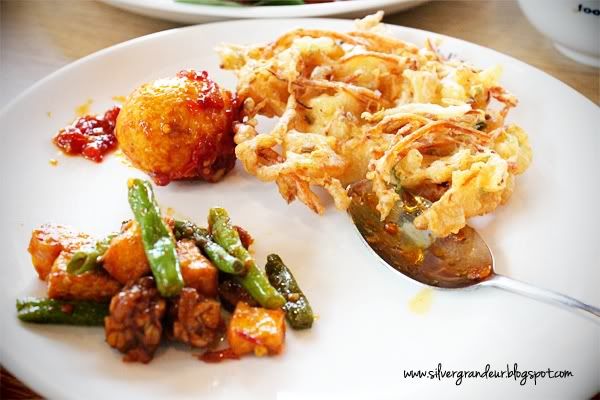 Padang food is Indonesia's most famous traditional cuisine. I found the chicken (pictured in the first photo, bottom right) to be very memorable. The sauce was superb.
Price: $6.90
*
8. Dao Xiao Mian (Pork Ribs) Formosa Delights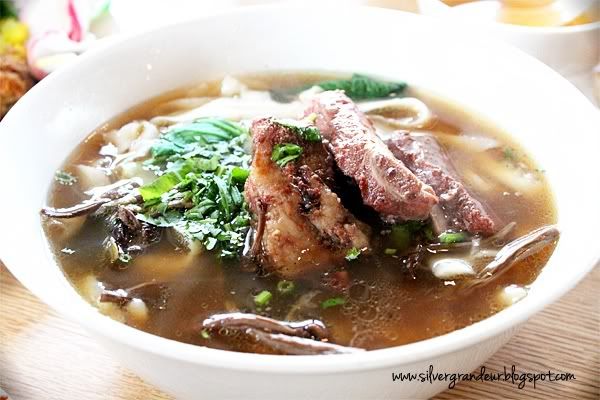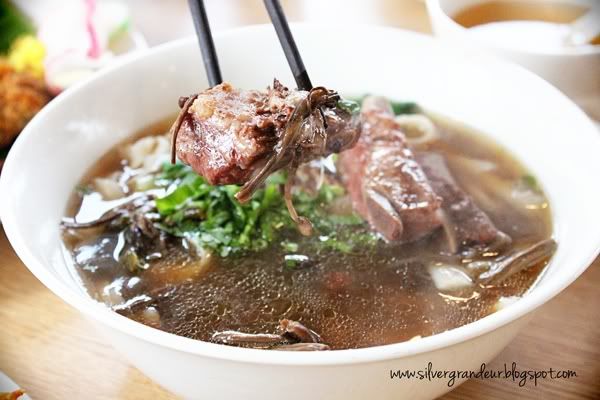 Dao Xiao Mian (Beef) was supposed to be served actually, but because I can't eat beef, they served the pork ribs one for me instead (thank you!). To which, fellow blogger Hazel from
Aimakan
commented that she personally preferred the pork ribs over the beef. And upon trying this dish, I have to concur with her (although I've never and will never try the beef one). But it's REALLY delish! The pork ribs were not too tough and had the essence of the soup but they however, were not the star attraction of the dish. I thought the noodles were! It's not called Dao Xiao Mian (Knife Shaved Noodle) for nothing. Can you see the knife marks on the noodles (the last photo)? These noodles are higher in elasticity and chewier and I really do love the texture of it.
Price: $6 (for the beef one)
*
9. Pad Thai with Prawns (Bangkok Gem)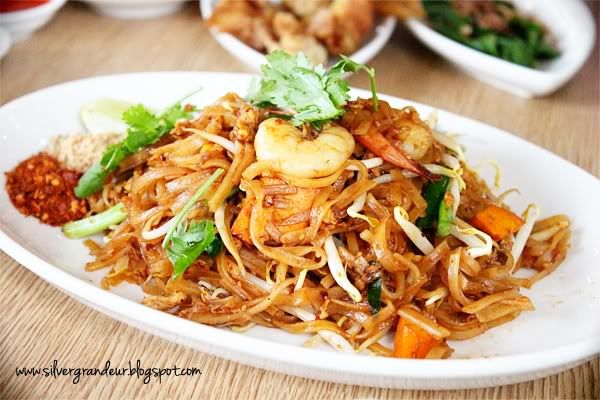 It's already spicy so unless you have a knack for spicy food, don't mix the chilli powder in.
Price: $6
*
10. Mixed Vegetable Rice in Hot Stone (Ju Shin Jung Korean Cuisine)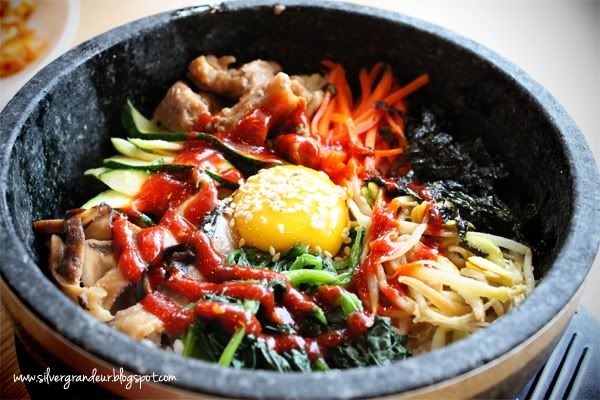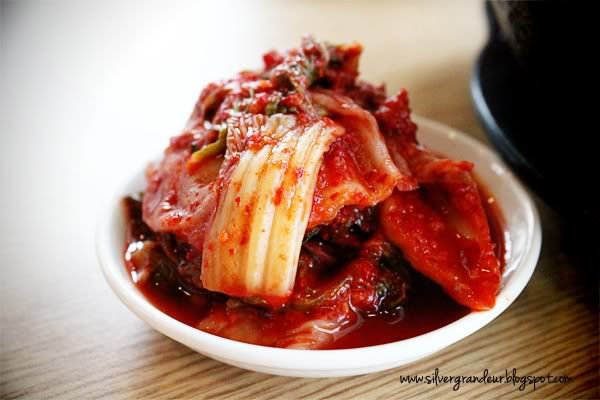 It's served with a generous serving of kimchi.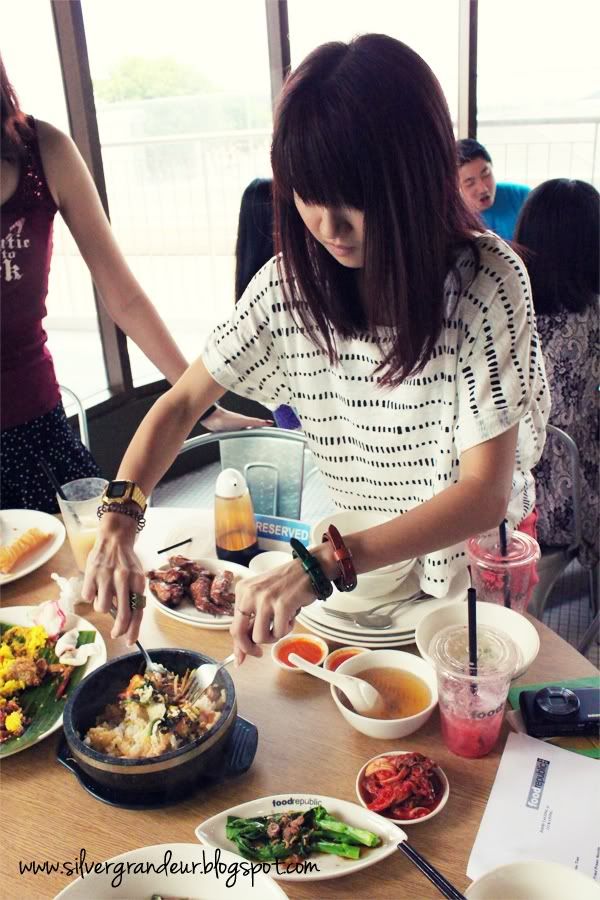 Here's Cheryl from
Ms-skinnyfat
mixing the dish for us.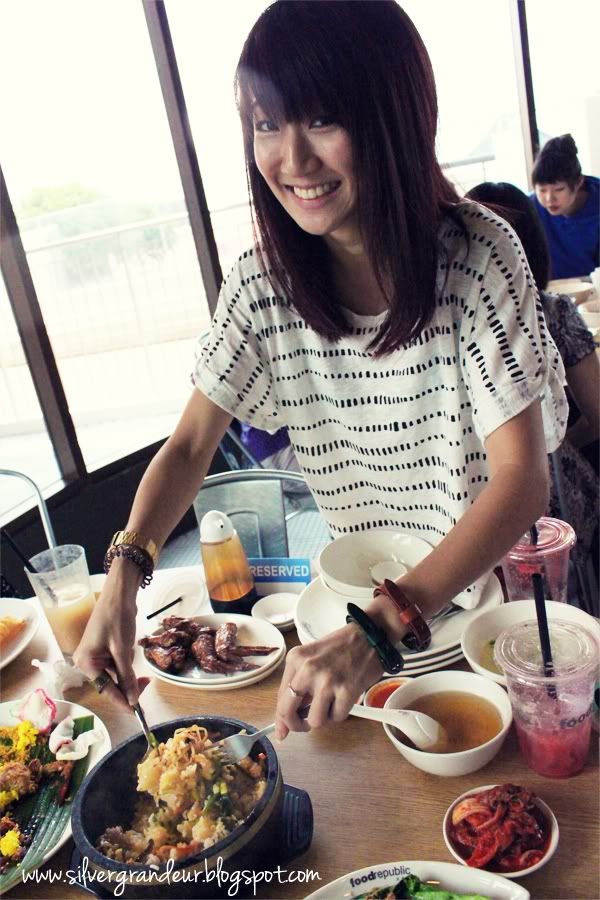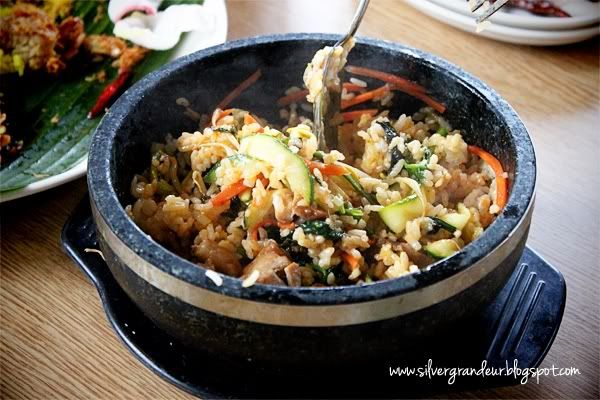 I know my mum loves this dish, it's a pity she couldn't try this one for this is authentic Korean fare!
Price: $7.80
*
11. Herbal Duck Drumstick Soup Noodles (Ah Yip Herbal Soup)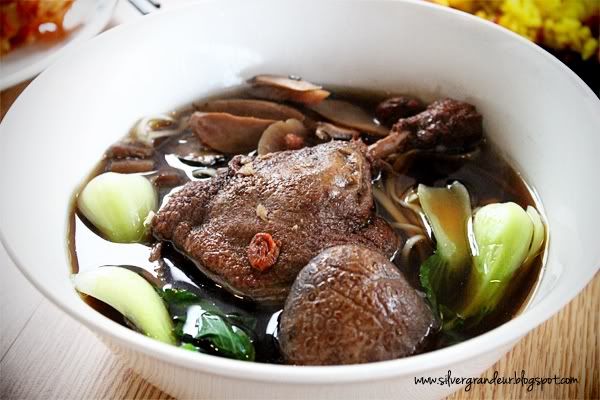 This is a new dish and it sure did not disappoint. You can smell the aroma of the herbs and the duck meat was cooked just right. We know the health benefits of Chinese herbs and it is with that expertise and knowledge that caused Mr Cheng Keng Yip, the founder and a physician for more than 10 years to set up Ah Yip Herbal Soup. With more than 10 hours to prepare and his specially created range of herbal soups, who says you have to compromise on taste for a healthy dish?
Price: $13.50
*
12. Fragrant Hot Pot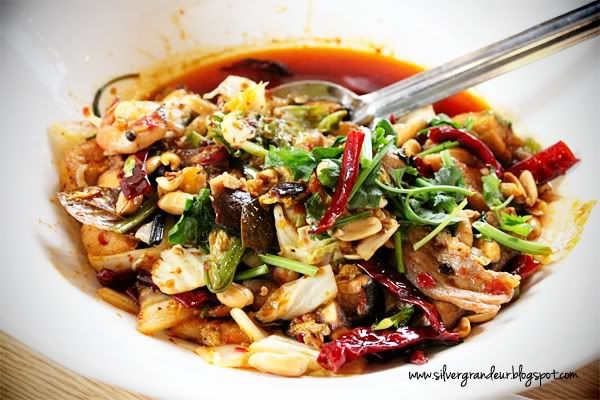 Spicy food lovers, rejoice! This stall only offers spicy food and ONLY spicy food. Non-spicy is not an option! Depending on your tolerance level, you can choose from the different levels of "numbness" (Ma) and "spiciness"(La), which is what we fondly call, Ma La Huo Guo.
Take your pick from a huge array of fresh meats, seafood and vegetable choices. Just like how you would have your usual steamboat, only this time, it's stir-fried with their special Ma La sauce made from 20 different herbs and spices.
Price: $21.90 (triple set)
*
13. Butter Garlic with Garlic Naan (Indian Express)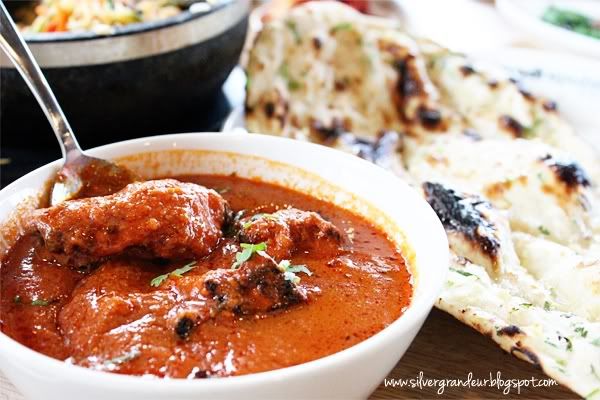 My friends on Facebook might remember me posting a photo on Instagram last week. It was a photo of my lunch - Indian cuisine, which I tried for the first time. This is my second time trying the Indian cuisine and I love the Naan! I prefer it over roti prata haha. Somehow, it feels more fragrant. The butter chicken was a little bit disappointing however. Not that it tasted crappy, it was still tasty. Just that, the sauce felt more tomato-based than butter.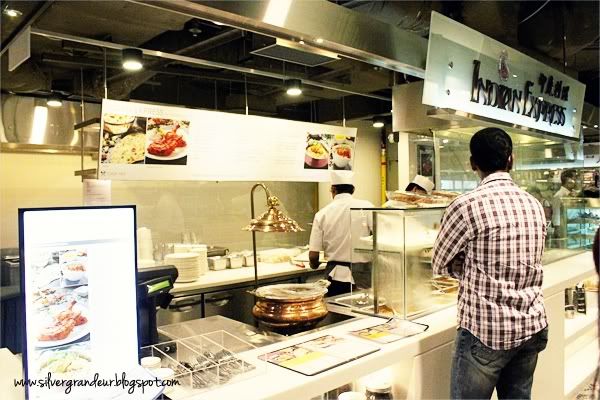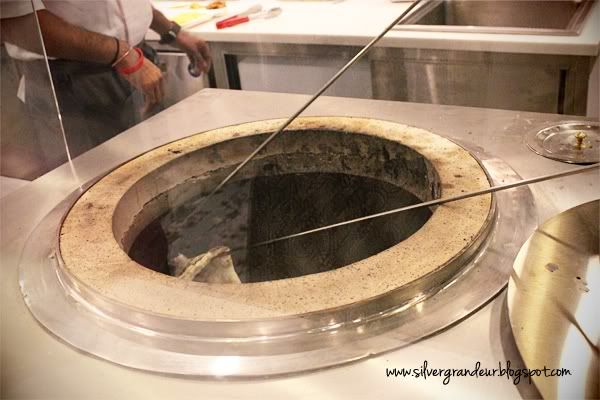 Naan in progress.
And taa-dahh.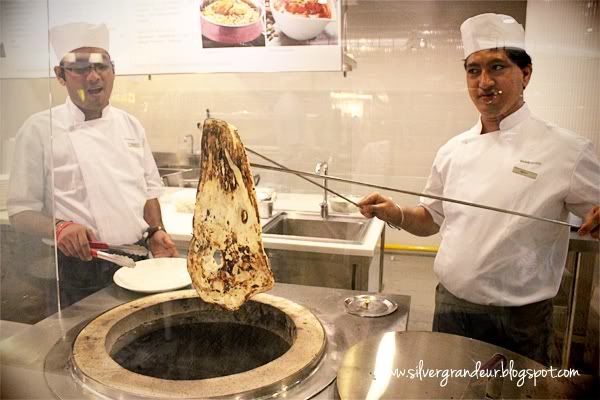 Price: $9
*
14. Pepper Steak (Pepper Lunch)
I believe this dish needs no introduction.
Price: $15.90
*
15. Hainanese Chicken Rice (Wee Nam Kee)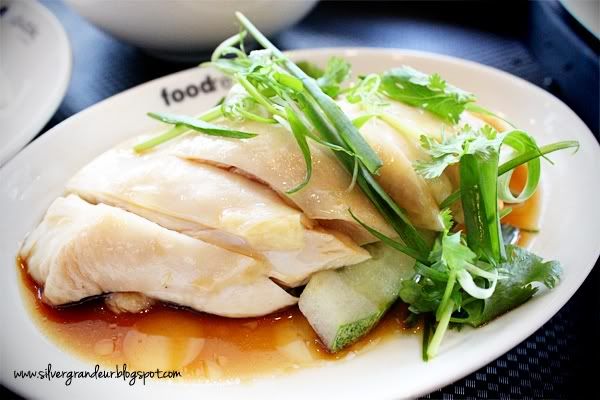 Ah chicken rice, a perennial favourite with both locals and foreigners. Just look at the chicken! Need I say more? It certainly wasn't voted the best hawker at the AsiaOne People's Choice Awards 2010 nor invited by the Prime Minister's Office to participate at its Singapore Day in Shanghai for nothing.
Price: $6.50 (Chicken Rice with dumpling set)
*
16. Chendol (Ice Shop)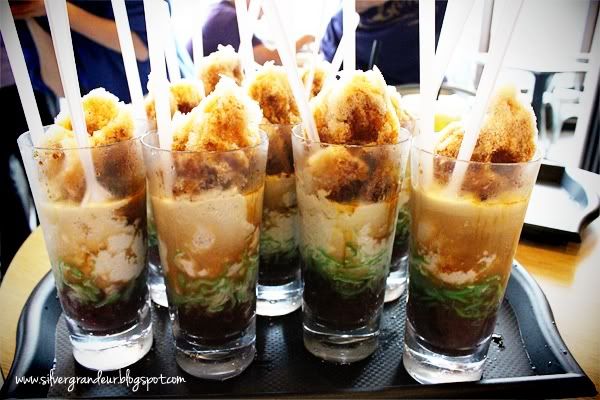 Price: $2.40
*
Of course, what's a good meal without a good drink to go with? I love a good fruit juice and had "Watermelon Juice" and "Starfruit + Apple Juice". The latter has been my favourite juice combination ever since my parents introduced it to me.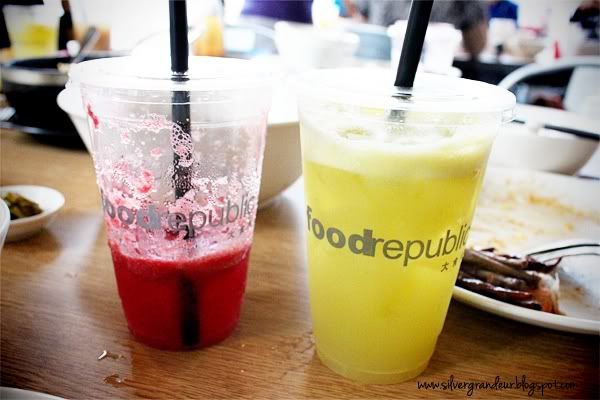 ***
Aside from the food, I would like to share some interesting parts about Food Republic at 112 Katong. Everyone knows that the Katong district and the Peranakan culture are interlinked, you can find elements of the culture in the mall and that includes Food Republic of course. The tiles are one example, check them out when you are there. Another interesting bit is this, check out the following pictures: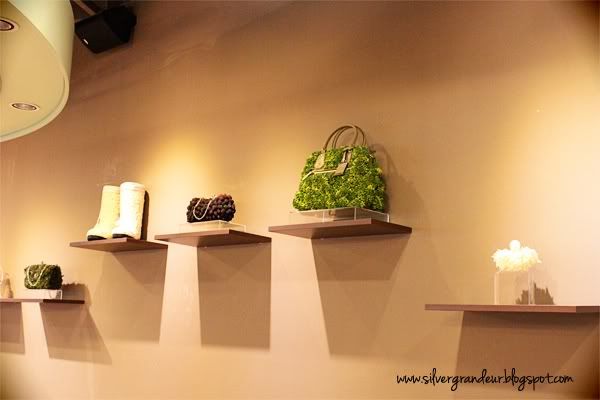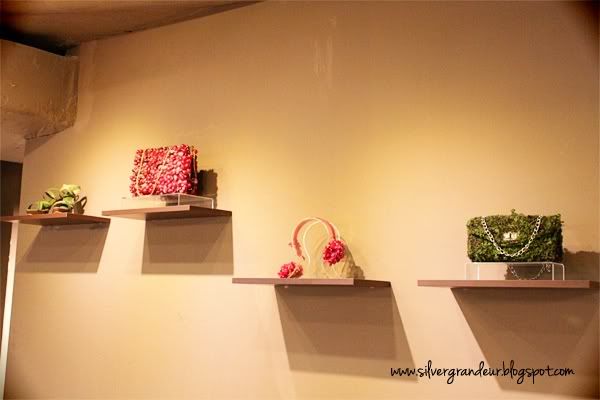 These items are made out of food stuff, REAL food stuff. How cool is that!
Handbag made with grapes.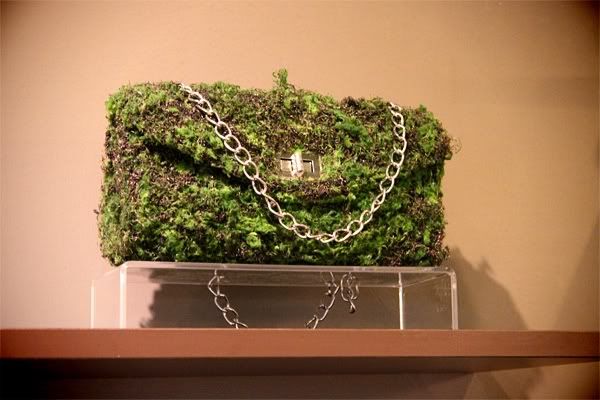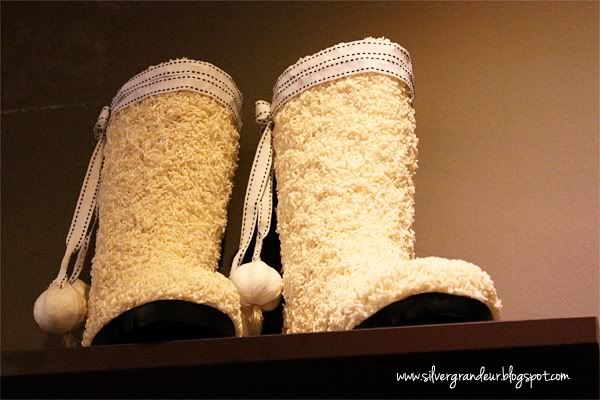 And boots made with rice.
Thank you OMY.sg and Food Republic for the lovely invitation. :)
Food Republic @ 112 Katong
112 East Coast Road #04-01
Singapore 428802
Opening Hours:
10 am to 10 pm
(Monday to Thursday, Sunday and Public Holidays)
10 am to 11 pm
(Friday, Saturday and Eve of Public Holiday)