I am sure most of you would have tried, or at least heard of CP food products. The brand, famous for its Shrimp Wonton, has released four new products into the market! And if you always find it hard to find time for your meals, this post is for you!
I received the first 3 items first and they came in a handy and roomy chiller bag.

P.S: If you were wondering, the first 3 items were not taken at my place because sadly, my kitchen is too small to accommodate a microwave oven. But I am sure every office pantry has at least one.
Dish #1: CP Shrimp Wonton in Tom Yum Soup
As I've mentioned earlier, the brand is famous for their Shrimp Wonton. So when I heard they were coming out with Shrimp Wonton in Tom Yum Soup, boy was I excited. Somehow, the thought of Tom Yum soup always and I repeat, ALWAYS makes my mouth water.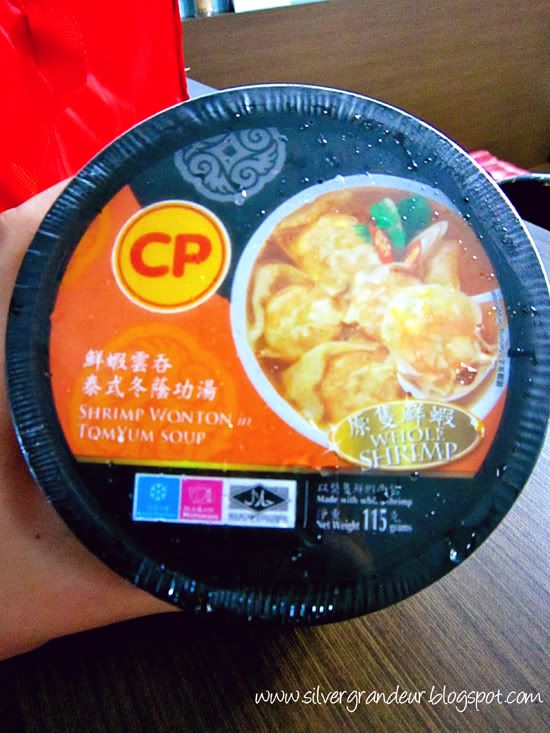 How to cook this:
*No defrosting required*

(talk about convenience - saves time!)
1. Tear open soup and chilli paste packages and pour into the bowl
2. Add water to fill line, and cover lid loosely
3. Microwave on high for 3-4 mins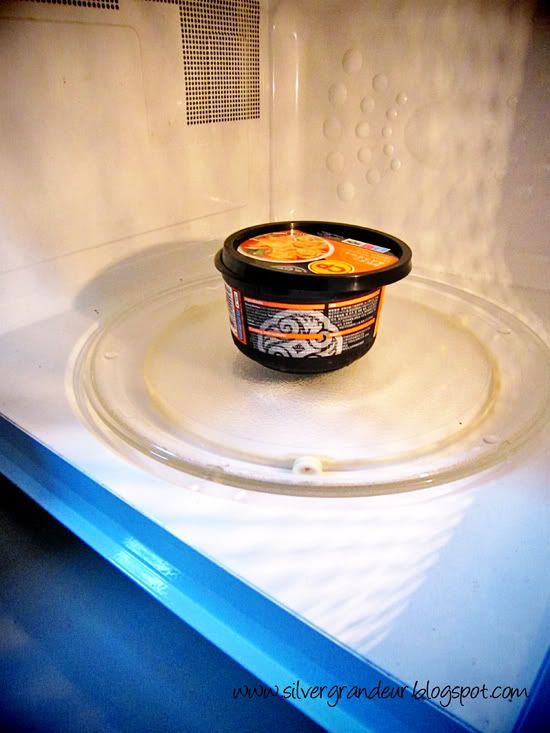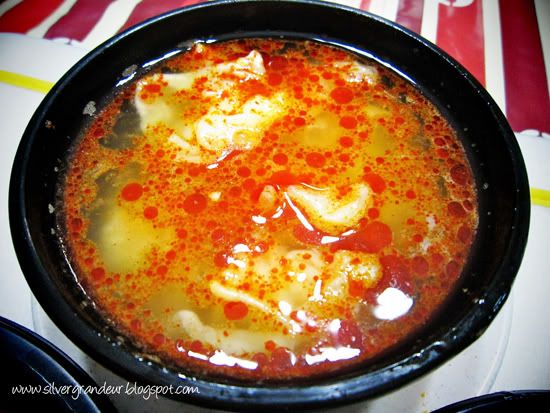 And here's how it looks like when it's cooked.
The soup is made using the best authentic Thai recipe comprising an aromatic blend of fragrant herbs such as lemongrass, lime leaves, galangal and shallots and I was really surprised when I took a mouthful of the soup. Because honestly, I wasn't expecting soup of such a standard coming from a frozen food product.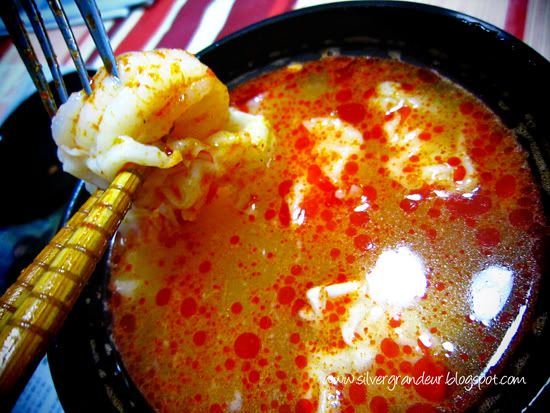 Here's how the shrimps look like. It's considered very fresh for a frozen food product! I love how the texture of the prawns feels like when it's chewed on.
This meal is good as a soup accompaniment or if you fancy something light.
Product Information
Net weight: 115g
Pack type: Convenient microwavable bowl
Meal type: Light meal or complimenting dish to main course
Content: Five shrimp wontons and soup paste package
No preservatives, trans fat or added MSG
Made with fresh whole shrimps
Hot and spicy Thai-style soup made from the aromatic blend of fragrant herbs
Halal
Price: $3.30
Dish #2: CP Green Curry with Rice
I am a huge fan of curry and out of all the different types of curries available, green curry has got to be my absolute favourite. It has a certain aroma to it and it tastes rich but still not yet too heavy on the taste buds.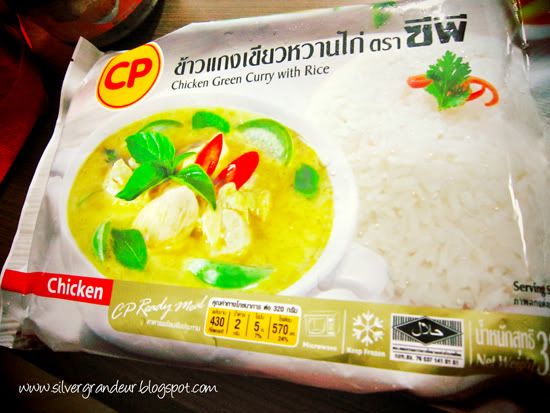 How to cook this:
No defrosting required (straight from freezer to microwave oven)
Microwave on high for 4-5 minutes
"Prepared in an authentic home-cooked style, expect nothing less than generous chunks of tender chicken meat and fragrant Jasmine rice served with green curry that has been cooked with the freshest ingredients, from the highest quality chicken from CP's renowned free-range farms, coconut milk to Thai basil and eggplants." And trust me, it's as good as it sounds.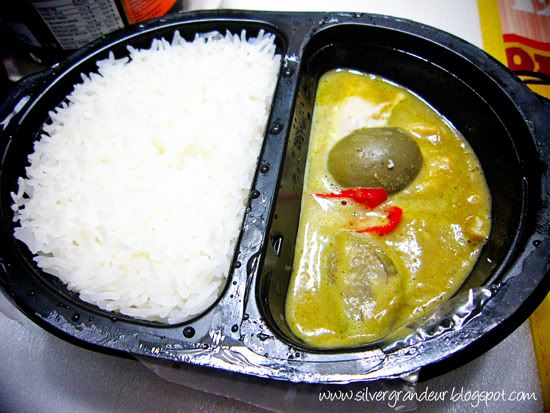 The sauce was so good I had to stop myself from polishing everything off. This happens every time I have green curry. Mix it with your rice, they go brilliantly together.
Product information
Net weight: 320g
Pack type: Tray
Meal type: Full main course, light meals
Content: Green curry, Jasmine rice, chunky chicken meat
No preservatives and added MSG
Halal
Price: $4.50
Dish #3: CP Spaghetti in Chicken Sauce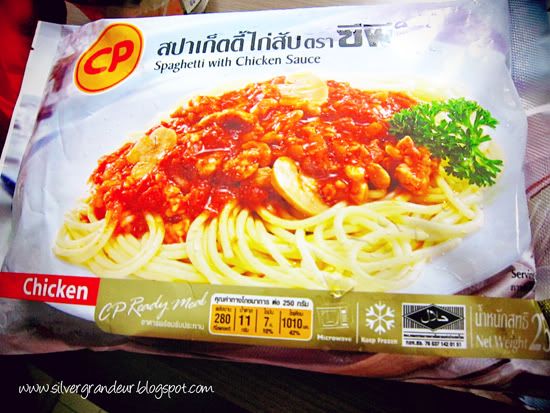 Ah the simple, classic dish of Chicken Bolognese. And the cooking method for this is the same as the Green Curry dish, straight from the freezer to the microwave!
Product information
Net weight: 250g
Pack type: Tray
Meal type: Full main course
Content: Spaghetti, tomato-based sauce, lean minced chicken
No preservatives and added MSG
Halal
Price: $4.50
I think the green curry dish and the spaghetti in chicken sauce are great for lunch, especially when you are too busy to step out of the office for a meal. With no waiting time (for it to defrost) and cooked within 4 to 5 minutes, it helps you save alot of time!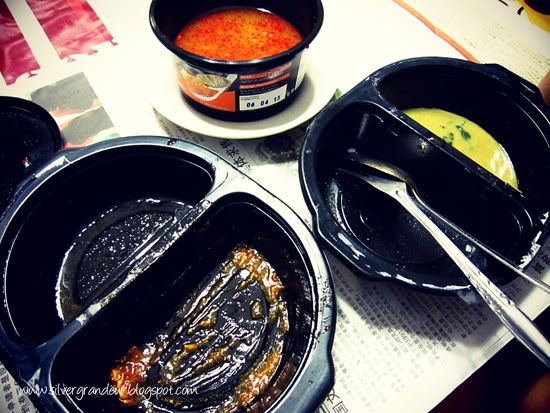 All finished!
Dish #4: CP Japanese Golden Crispy Chicken
This does not require a microwave oven so I had this (and had the photos taken) at my place.
Above: The front
Below: The back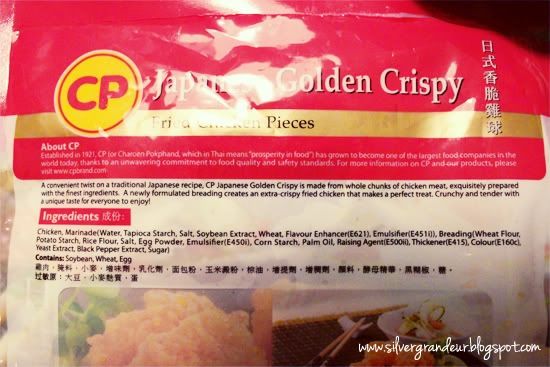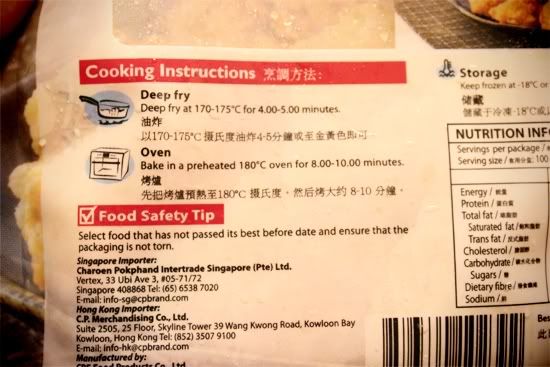 I chose to cook them with an oven.
The aroma hits you the moment you open the bag.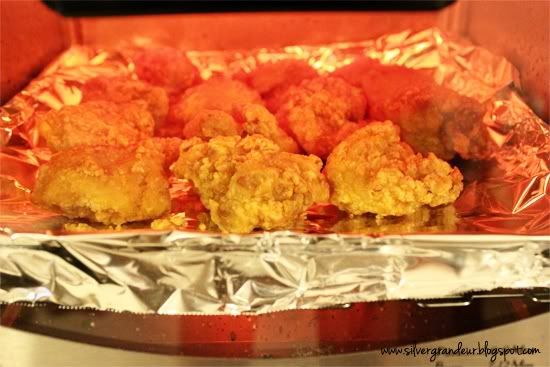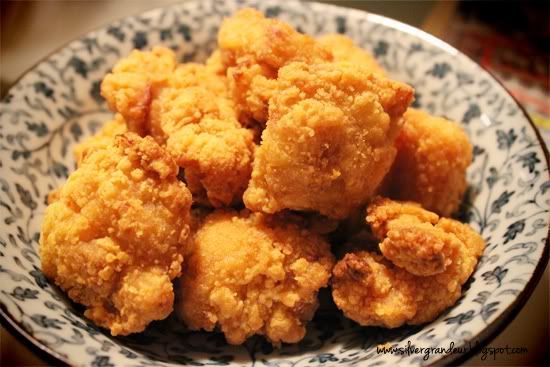 And done! If you were thinking, they look like the Japanese chicken karaage! I thought the same too. I even placed them in a Japanese-looking bowl just to complement it haha.
Out of the four dishes, I got to say that I am most impressed with this one. It's really really good. The meat was succulent, tender, juicy and best of all, fragrant. The outer skin was crispy too (and may I say, the essence of the chicken). My parents, both rarely taking a liking to fried stuff, found them really good. So you should know how they good they taste!
Product information
Net weight per pack: 300g
Pack type: Pack
Meal type: Side dish, snack, appetiser, finger food
No preservatives and trans-fats
Made from whole chunks of highest-quality, juicy and tender chicken meat
New breading formula with extra crispiness
Convenient and easy to prepare (see cooking method below)
Product of Thailand
Price: $4.60
The above 4 mentioned food products can be found at all major supermarkets and convenience stores. Thank you CP for sending me all these yummy food stuff! :)