Now I am sure most of you are well aware of the K-wave in Singapore, be it music, food, dramas or fashion. It's everywhere! If you were wondering: I am neutral towards K-pop, I love korean food as much as I love Japanese food (unless it's sashimi, it will triumph an awesome dish of Korean BBQ chicken, that's for sure), I watch korean dramas from time to time because my mum watches them during dinner and as for fashion, I think it's the perfect poster look for all things classic, dainty and feminine.
And that's the impression
Korean Affair
gave me when I saw the products they had.
After browsing through all their products, I found one that caught my fancy which is this:
Gold is a classic shade because it will never go out of style, it's elegant and easy to match. I liked the weave detail of the bracelet because it has an unfussy feel to it. And I liked that it uses a lobster clasp closure and not a one-size-fits-all kind of closure because my wrists are really kinda skinny and I always had an issue with bracelets/bangles being too big and slipping out of my arm.
But, the main concern I had for the bracelet was the quality. I've seen too many shops in Far East and other various (affordable) shopping centres with Korean-inspired products. But the quality of their stuff were, well I shall say, you really pay for what you get. Their bracelets felt flimsy and the finishing was quite crappy.
Anyhow, the bracelet came and I was pleasantly surprised. Because, it's far from flimsy! It actually felt pretty sturdy and it's the same for the lobster clasp. I've bought necklaces with weak lobster clasp before (eg.: F21, really) but this one isn't. I am not saying all these cos it's a sponsored review. If the quality of the product is lousy, trust me I will state so because you deserve an honest review (if not I wouldn't be calling it a review).
This is how it looks like on my wrist.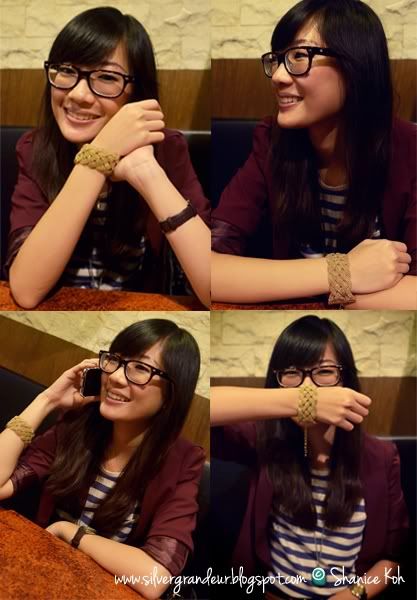 I swear the photos don't do justice to the bracelet. (although the shots are taken with my friend's Nikon DSLR) The bracelet is more true to the photos on the website - it looks like this (but a little darker in normal lighting):
Click
here
to go to the product listing.
Korean Affair
is a new online store, all their accessories are designed and imported from Korea. They are currently having a launch promotion. You can get a 5% discount code by simply liking their Facebook page
here
! More details about the promotion is on
this page
. :)
Thanks Korean Affair for the lovely bracelet.