We always feel that time is never enough, don't we? And if you are one who takes pride in your appearance, grooming/taking care of your hair and skin can take up quite a bit of your time. So, when I saw this new Bio-essence product, I had to try it.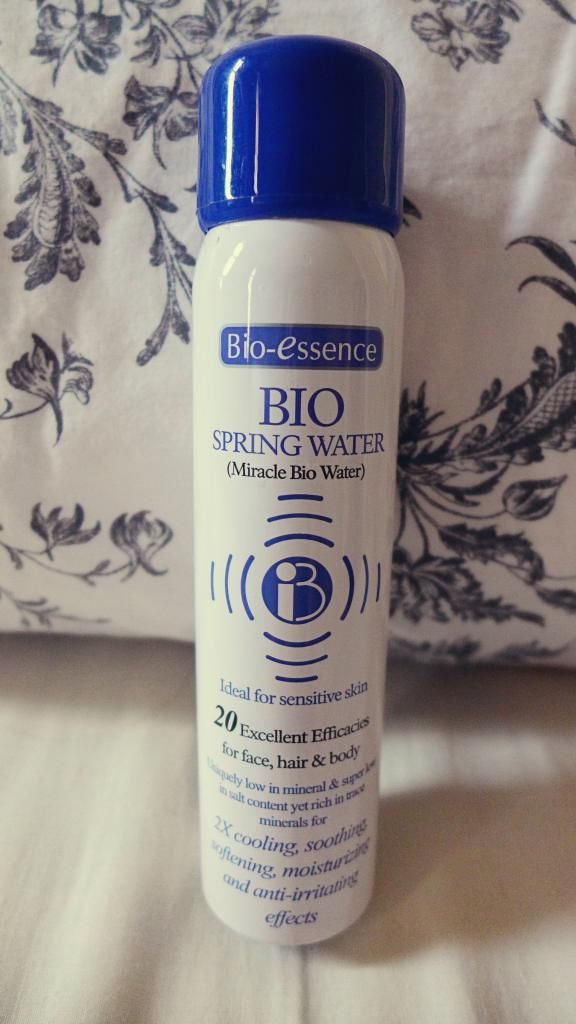 Also called "Miracle Bio Water", it has 20 efficacies for your face, hair and body (skin). Now how does that sound? Pretty brilliant, ain't it? Because that means, you need just one product, which also saves time (and money).
Let's take a look at what this product claims it can do:
For Hair
Relieves dryness and split ends
Moisturises hair (especially for dyed hair)
For Face
Relives tiredness, sensitive skin, pimples
Reduces eye bags
Controls oil
Whitens and brightens skin
Refines pores
Lifts skin
Use after makeup for a natural look
Soothes skin after treatments
Moisturises and nourishes skin
Firms skin with elasticity
Refreshes and soothes skin after exercise
Soothes and calms damaged skin
Moisturises and refreshes skin under hot sun
Soothes skin after sunburn
Soothes diaper rash
Use after shaving
That's alot this products says it can do, so you might wonder, how does it work then?
Skin cells suffer from fatigue and skin dullness from environmental aggressions and mineral deficiencies. Trace minerals are essential minerals required by human health. It accelerates skin healing process and gives the skin sufficient hydration to improve on skin roughness.
Bio-essence Bio-spring Water contains high trace minerals which are the perfect, natural treatment to obtain optimum skin care health.
Having unique composition, Bio-Spring water is specially low in mineral content and sodium chloride content yet rich in trace minerals, ensuring 2X effect for cooling and soothing sensitive and irritated skin.
While minerals are vital in modern skin care, higher mineral content releases more energy and heat which will be drying to the skin. Low in mineral content creates lesser energy and heat which is ideal for cooling and soothing sensitive and irritable skin.
To use it, hold the bottle not less than 20cm from targeted area and spray. Then pat the area dry gently after spraying. (if you're using it after makeup, there's no need to pat it dry)
I tried it on my hair and face. The skin on my face most certainly felt hydrated and supple after the spray. And best of all, it's very lightweight, so it felt like I don't have anything on my face at all. When I received this product, I just permed my hair. So, I really needed a good moisturising product. And after using it, I realised it made my curls look more alive and bouncy because my ends are less frizzy. I also tried using it after my makeup, that will give you the dewy look.
Overall, I really do like this product. It works, it's affordable and being an all-in-one product, I say it's definitely a product worth buying.
Retail Price
25ml - $5.90
100ml - $12.90
300ml - $28.90
If you're unsure if this product will work for you or if you would love to try/own this product, listen up cos I'm holding a GIVEAWAY! To stand a chance to win one travel size (25ml) Bio-essence Bio Spring Water (pictured below), here's how:
1) Follow me on Twitter
2) Retweet my tweet about the Giveaway.
That's all! This giveaway will close on 20 February and the winner will be announced on Twitter. Good luck! :)